First of all, a warm welcome for 2021. So, curious to know how you can improve your mastery in the skill of Graphic design using free software.
Yes, free software!
The only thing is that you have to master the skill of graphic designing from various books some of which are given below… and also there are many free sources on the internet.
Just invest a good amount of time to learn & improve your skill, and you should be consistent with it.
Besides this premium software like adobe photoshop, Illustrator, Sketch, Corel Draw, Xara designer, etc in the market, which are too costly for beginners we have got much free software which is not that powerful but you with your learned skill can use it to full potential.
So here we will get to know about 17 free software
Related Post – 80/20 Rule In Designing, To Improve The Quality
Here is the list of 17 free software
Gravit designer
Vectr
Inkscape
Canva
Photo pos pro
Picsart
Snapseed
Sketchup free
Daz studio
GIMP
Krita
SVG-edit
Blender
Paint.net
Pixlr editor
Fotojet designer
Visme
Gravit Designer,


A quite new app & a bit underrated, made by the company which is behind CorelDraw. This free graphic design software is clean and user-friendly which you can adjust as per your needs.
Platform – Browser, window, Mac OS, Linux, Chrome OS.
Pros – You can easily export to PDF, SVG, JPG, Sketch also in recent version EPS format too after the end of your free trial,
Clean and user friendly,
You get huge cloud storage, which you can use cross-platform,
Vector asset library
Cons – You have to pay in the future, but no problem you can use the free version.
Lack of additional function
Vectr,


It is also a very clean graphic designing software better than Gravit designer, which has both browser-based application & desktop app, where you can create designs in real-time. Here you get many options for using filters, Shadows, soft corners, etc. Wisely it is an alternative to Adobe Illustrator CC.
Platform – Browser, Windows, Linux, Chrome Browser
Pros – Easy & user friendly Platform,
You can easily share project,
WordPress integration
Cons – No Result
Inkscape,


One of the most powerful free designing tools is even used for commercial purposes.
It uses SVG as the main format. It provides many modern tools which are not available in other free software like complex path manipulation, note editing, etc.
Platform – Windows, Mac, Linux
Pros – Completely free,
Many modern tools,
You will get many contents on how to learn using Inkscape
Cons – Can't handle very large projects
Canva,


This is the most popular online graphic designing tool with both free & Paid versions, It is the best choice for super beginners. Here you get a prebuild template for almost everything listed logo, infographic, FB post, and many more. Also, it is used for commercial purposes.
Platform – Browser, Android, iOS
Pros – Easily accessible from any browser,
Have a large number of templates,
Easy to use
Cons – Internet connection required,
You can't change the size of the design in the free version
Photo pos pro,


A  photo editing tool just as good as Adobe photoshop and easy to use interface where you can fix lighting, contrast, and saturation, and many other editing options.
Platform – Windows
Pros – It has many good editing options
Cons – though it promises a good experience it is not up to the mark since no shortcuts and bit tricky to use
Pics art,

It is a photo editing app for android and iOS also for desktop. It is used to create & edit pics with much ease. Also here you can go to a thematic contest.
Platform – iOS, Windows, Android
Pros – Easy to edit
Awesome community
Huge collection of stickers
Cons – Lot of advertisement
Snapseed,


it is a photo editing software for both android and iOS which allows user to apply filters and enhance the look of the picture
Platform – iOS, Android
Pros – User friendly
Can handle raw photos
No advertisement
Got many presets and grades
Cons – needs some learning
Otherwise an excellent simple app.
Sketchup free,


If you have just started discovering the world of 3D, then it is best to go for the free version of SketchUp. You can just start by building stuff like lines and then converting them to 3d Models.
Platform – Browser
Pros – 3D visualization is amazing and is very easy to learn
Cons – Rendering is limited and it is not automated like other architectural software.
Daz studio,


This tool is used for 3D model customization, an animation tool that allows people from beginner level to pro-level to create digital art.
Platform – Windows, Mac OS
Pros – Has all aspects of 3D Designing
Character looks realistic
Cons – High specification required
Outdated
GIMP,


Gimp stands for the GNU image manipulation program, similar to Adobe photoshop. It is debuted on Unix based platform. Here you get a full suite of tools for editing within easy reach.
Platform – Mac, Windows, and Linux
Pros – Easy to use
Multi-platform software
Cons – contains bugs
Krita,


It is a free and open-source painting tool which is on market since 2000 and still it is progressing. This tool has different types of brushes which can be used for all-purpose also you get a number of plugins.
Platform – Windows, Mac OS, Linux
Pros – Quite interesting
It got plenty of illustration
Cons -Plenty of storage required
SVG- edit,


If you need an SVG result quickly or you want to edit an SVG file then this Free tool is best besides adobe illustrator. It is completely based on coding so you can further bring changes to it using some code editor.
Platform – Browser
Pros – Open source code
Simple and easy to use
Cons – Ideal node management not present
Blendor,


Best place for 3D designers. It is a free 3D designing tool having the capability of doing all 3d designing aspects. And is available for all major OS.
Platform – Windows. Mac OS, Linux
Pros – Free open source
You can export to other formats
GPU rendering possible
Cons – complicated in learning
No app support for motion capture
Difficulty in managing large no. of animation
Related Post – Design Creative Ads with Google Web Designer
Paint.net,


It is an alternative to a paint editor by Microsoft. there is a range of special effects available, allowing you to easily create fake perspectives, blend and push pixels around the canvas, tile and repeat selections, and so on. Sadly this is only for window users.
Platform – Windows
Pros –Free to use
Plugins available
It fully supports HiDPI display
Cons – It is only available for windows
You can only edit a single image at a time
Pixlr editor,

This free graphic design software Pixlr claims to be 'the most popular online photo editor in the world'. It boasts over two million combinations of free filters, overlays and borders, and lets you do all the main things you'd expect from a photo editor, from cropping and resizing and many more.
Platform – iOS, Android
Pros – A very user-friendly interface
Cons – It lacks some handy tools like cloning and healing tool
Fotojet designer,


This software is a great online graphic designer, collage maker, etc. with which one can make designs with much ease just like the canvas.
Platform – Browser
Pros – Very easy like canvas
Cons – Only basic editing tool present
Visme,


using this tool you can make creative designs without learning too much about designing. It has an easy drag and drops feature, also there are 100 different templates which are useful in individual as well as commercial purpose.
Platform – Web browser
Pros –you get beautiful templates
Ease of use
Cons – Problem while choosing a canvas size
Comment down your Favourite tool,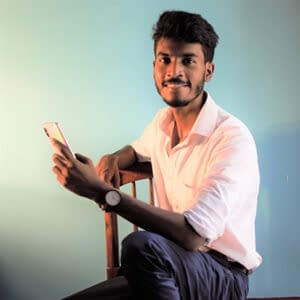 Businezvalue was founded by Johnny J Hembrom and his team, an enthusiast in learning business growth and designing.
After failing again and again in his business, finally, Johnny had made lots of fortune and want to help new business people & entrepreneurs, and learn from them.